2021 Kia Forte Pictures and Videos
---
+ 3
PICTURES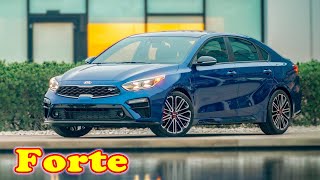 POPULAR TAGS
stinger
transmission
economy
performance
simple
matter
reason
driver
drivetrain
mileage
everything
become
handle
carplay
screen
display
system
assist
avoidance
convenient
2021 Kia Forte Design Reviews
---
9
User Overall Rating
Posted On: June 2, 2021
Provides features but not the performance
Pros -

Enjoying the wide range of safety features and auto start
Cons -

The power is extremely scarce at times
Got such a futuristic car for a very decent price I am enjoying the driver aids in this car, and they are so good. I did not have them prevoiously and I use them as often as I can. The car maintains the lane on which I drive easily without any push, and it also helps me see where I can't look, the people at the store said its blindspot monitoring or monitor, I forget which. Anyways work just fine and also auto starts. The first car I bought was the Cavalier and it was all the rage back in the day. Can't believe how much the cars are self sufficient nowadays. But sometimes the power is not as it is on other times and lacks power very much. I went to the store on 11 November and there was a veteran's day discount going on for retired marines. I got a good discount from the place and the way they treated me was great. Me and my wife don't go out much nowadays but they are a really nice folk at the place. So helpful. Even manage to stay in touch if any car emergency arises as I had told them of my inability to go out much due to the age.
---
8
User Overall Rating
Posted On: May 28, 2021
2020 Kia Forte review
Pros -

Cruise control, lane keep assist, and tons of other features
Cons -

No CD, mpg, uninspiring style
Lovely drive Originally from California, I drove the car to the Northern Plains through Nevada, Utah, Wyoming, and North Dakota. The cruise control holds speedwell and the ride was absolutely dreamy while the cars tracking on the road has always been excellent. The transmission shifts flawlessly, both smooth and quiet. When the accelerator is smashed the engine revs appropriately and gets one into the passing lane efficiently although not sportingly. The only flaw I found is the mpg is a little lower than what Kia claims. Great! The salesperson and everyone were really polite and professional. They have a very clean facility and also have a coffee machine. Loved my time there. Will definitely recommend them.
---
8
User Overall Rating
Posted On: March 2, 2021
My new Kia Forte
Pros -

Plenty of features for money. Strong fuel economy. Premium styling.
Cons -

Boring to drive. Rear seats a bit cramped.
Most bang for the least buck! Honestly speaking, I'm quite happy I chose the Kia Forte over the popular Civics and Corollas. It has so much to offer for Apple CarPlay, SiriusXM radio, a large 8' touchscreen, wireless charging pad and a host os driver assist systems are all standard across the Forte. Though the engine is not that peppy, it does offer good fuel economy the tech-savy me than the Japanese brands at a lower price. Android Auto, numbers for everyday driving. Absolutely satisfied since the last year!