2021 Chevrolet Colorado diesel Crew Cab Pictures and Videos
---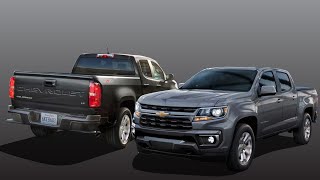 POPULAR TAGS
vehicle
family
performance
experience
suspension
competition
colorado
something
mileage
capability
practicality
response
machine
transmission
matter
diesel
simplicity
someone
feature
perfect
2021 Chevrolet Colorado Design Reviews
---
7
User Overall Rating
Posted On: March 24, 2021
Turbo diesel for workaday
Pros -

Impressive low end, mpg, best for hauling and towing
Cons -

Noisy engine, cold morning start, no body protection
Love my Colorado for what it can do A diesel truck for work purposes, sounds the best thing and it is no doubt an ideal truck for workaday. Low end is amazing which gets it going no matter what is holding it back with just a tap on the throttle. Sure gets noisy past 2k revvs. A lot noisy I should add Turbo diesel engine which not only makes it better for towing and hauling but also saves the day because of its economy I got this Colorado for work and comfort was not the priority. It does a great job keeping us comfortable on the inside. The design looks simple and I like it Not having body protection on the sides as well as underneath does leave room for things to get ugly Turbo diesel which saves on fuel cost and delivers exactly what a truck owner would want @496/m of lease for four years, I think we got pretty lucky at the dealership My brother works there in finance which eased out the process quite significantly
---
8
User Overall Rating
Posted On: March 24, 2021
2021 Colorado
Pros -

Features, quiet cabin, excellent value
Cons -

2.8L engine is not enough, transmission
Great truck for the price. Colorado is a surprisingly good family vehicle, that's why we bought it so we could eventually fit 1-2 kids in the car and when they get slightly bigger. If I wanted a better car for cornering and gas mileage I would have gotten a Toyota or something but I wanted practicality and capability hence Colorado. A backup camera is a necessity in trucks Good size and airy inside! The interior is quiet and comfortable. I could not have asked for anything more. I like it but the new 2019 version was much nicer and sportier. Overall, it is a really practical design. Colorado has good safety features! Plus, it is big and sturdy! Great value. Has been working really Did $0 down payment. Now, I? paying $427/month. well.
---
9
User Overall Rating
Posted On: March 24, 2021
I like this truck
Pros -

Handling, smooth, roomy
Cons -

Gas mileage
I love my Colorado. The driving experience is good. It handles well, not as good as a sedan but definitely better than the competition. If pushed too hard around bins and turns, you can feel the understeer/oversteer. This can be remedied with suspension upgrades. Performance-wise, I am happy. Powerful enough for me, if I had a car full of people all of the time, then I'd say you may want a little more power. Feature-wise, Colorado is perfect for someone looking for simplicity or a person that wants something nice without breaking the bank. Overall the interior of Colorado is simple and easy to operate. The cabin is roomy and airy!. The seats are really good too and are adjustable. The outward visibility is clear and there are no visible blindspots. I love the overall exterior styling. Chevy has really put in effort into designing Colorado. I feel safe in Colorado. It is well built and is very sturdy. Colorado has been extremely $389 per month is what I? paying and it the ideal one to have this vehicle. reliable!!